Invisalign - Grand Prairie, TX
Straighter Teeth
the Easy Way
Modern dental technology is amazing, and nothing illustrates this better than Invisalign. Now, instead of having to get noticeable metal braces to straighten your teeth, you can instead opt for a discreet and comfortable treatment that has already helped millions of people around the world. At Care 32 Dental of Grand Prairie, we combine Invisalign with our 3D iTero scanner to make the process as efficient and comfortable as possible. To schedule a consultation and start on your road to a renewed smile, contact us today to learn more about Invisalign in Grand Prairie, TX.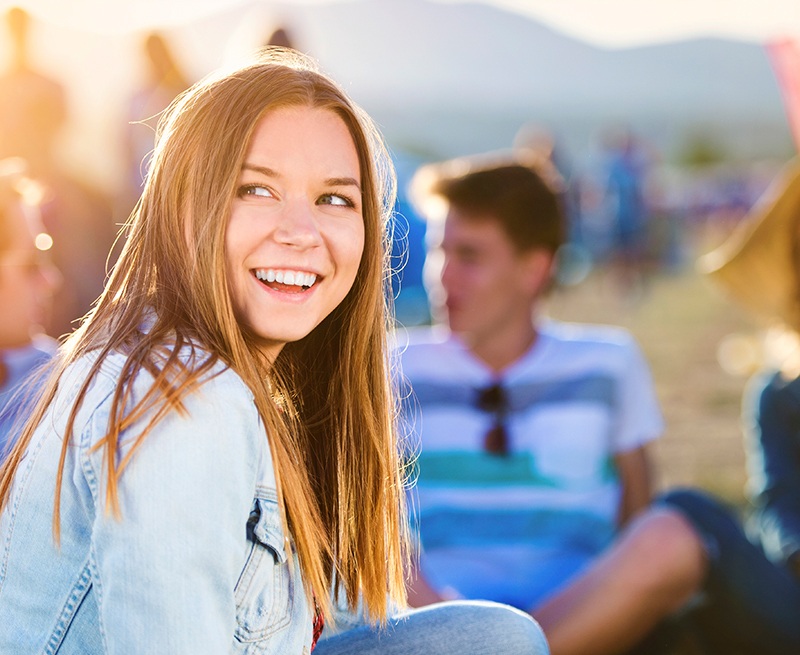 Why Choose Care 32 Dental of Grand Prairiel for Invisalign?
Fully Customized Treatments
for Each Patient
Putty-Free
Digital Impressions
Preview Your Results Using
Our 3D iTero Scanner
How Invisalign Works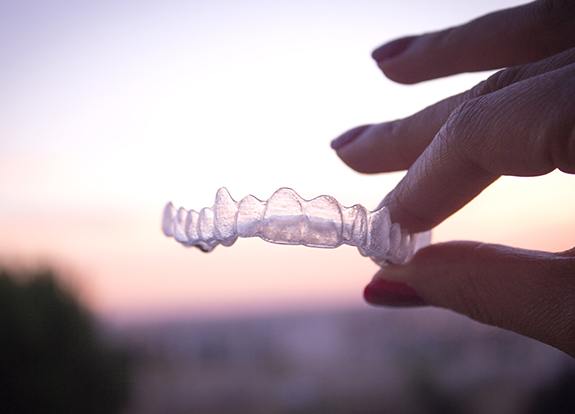 Invisalign actually has a lot in common with regular braces, in that it involves applying a very small amount of force to shift the teeth into their new positions. Instead of using brackets and wires to do this, however, Invisalign instead relies on a series of clear plastic aligner trays. Each one is uniquely shaped to bring a patient a step closer to their final result. And, unlike braces, a patient can take off their trays whenever they like, allowing them to eat and brush their teeth like normal throughout treatment.
Invisalign & Invisalign TEEN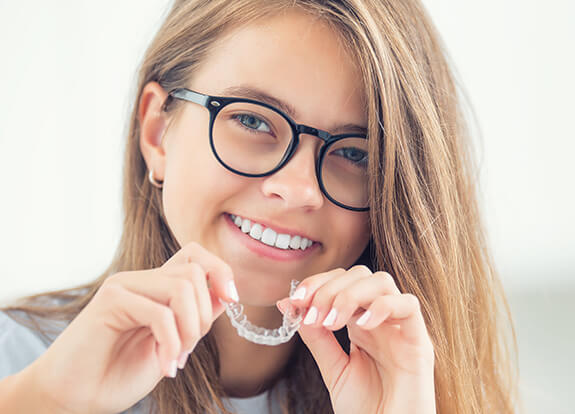 Care 32 Dental of Grand Prairie can use Invisalign to not just help adults, but teens as well! It's perfect for anyone who wants to improve their appearance while keeping their normal look day to day, whether they are in the boardroom or the classroom. Regular Invisalign can straighten the teeth at any age, and with Invisalign TEEN, small indicator dots on each aligner help children and parents easily keep the treatment on track, and it also comes with a set of FREE replacement aligners.
Invisalign & Teeth Grinding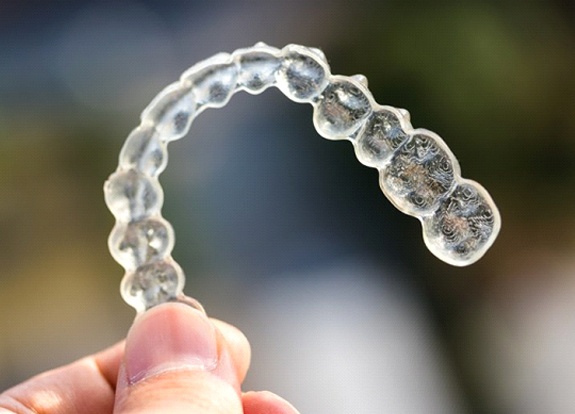 Invisalign can help you achieve a beautiful smile, but more importantly, it aims to give you a healthy, pain-free grin. Correcting crooked, overcrowded, or gapped teeth will definitely give your appearance a boost, but it will also help your jaws fit together properly. In turn, this can protect your jaw joint, prevent issues like TMJ disorder, and even potentially treat teeth grinding. Can Invisalign really help you stop grinding your teeth? Read on as we go over everything you need to know.
Signs That You Grind Your Teeth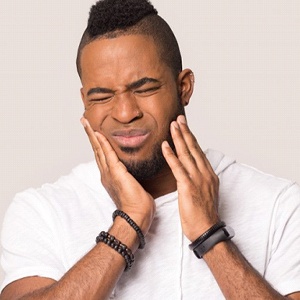 You may grind your teeth without realizing it. Many people grind their teeth in their sleep, which can make it a difficult problem to identify on your own. However, the warning signs of teeth grinding are not so easy to miss! You may grind your teeth or clench your jaw at night if you suffer from:
Morning headaches or jaw soreness
Tooth sensitivity or tooth pain
Chipped, cracked, or flattened teeth
Receding gums or teeth that look longer
Damage on the inside of your cheek from chewing
While it may be difficult for you to tell if you grind your teeth in your sleep, an experienced dentist like Dr. Desai will be able to tell right away with a quick examination. If you suspect you grind your teeth, don't hesitate to contact us today!
Why Teeth Grinding Is a Problem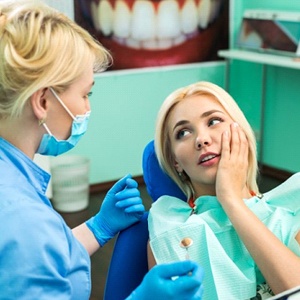 Grinding your teeth in your sleep is a condition known as bruxism. Sometimes, it can occur temporarily or sporadically because of stress. Other times, it may be a chronic issue due to a problem with your temporomandibular joint or jaw misalignment. Treating bruxism early is the best way to address and reverse the symptoms we mentioned above. Additionally, taking steps to stop teeth grinding can help prevent serious problems in the future, such as cracked teeth or dental infections. In extreme cases, you may develop a condition known as TMJ disorder, which can interfere with your daily life and require treatment via surgery.
How Invisalign Fixes Teeth Grinding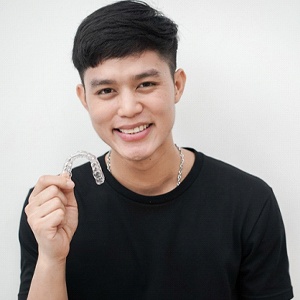 So how can you treat bruxism while getting a straighter smile? Invisalign can help by:
Protecting teeth from grinding: Like a nightguard, Invisalign clear aligners can act as a protective barrier between your teeth to prevent damage from grinding.
Reprograming jaw muscles: Your jaw muscles will need to adjust to the presence of Invisalign aligners, which will essentially retrain them to not clench or grind.
Fixing bite issues permanently: Invisalign has the potential to permanently correct misaligned jaws and bite issues that could be the root source of your bruxism.
Can Invisalign Help You Stop Grinding Your Teeth?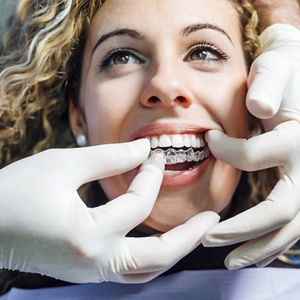 Invisalign isn't the ideal treatment option for everyone who grinds their teeth. For some people, wearing aligners makes them want to clench their teeth more often. In other cases, the bruxism may be too strong and damage the aligners. The best thing to do is to come see us here at Care 32 Dental for an evaluation. Invisalign is just one way to address bruxism, and a custom-made nightguard may be a more effective choice for you. Dr. Desai will help you determine the best way to treat your teeth grinding and achieve the happy, healthy, and pain-free smile you deserve!
3D iTero Scan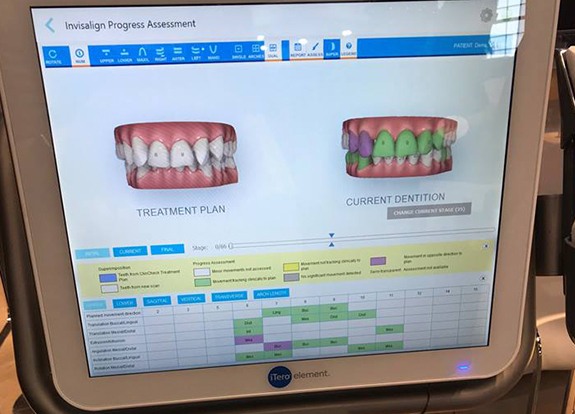 Each Invisalign treatment we provide is 100% custom-made for each patient, and it's designed using our 3D iTero scanner. It allows us to take an extremely accurate digital impression of the mouth without relying on goopy and odd-tasting dental putty. With this model, we can map out someone's treatment plan with extreme precision so the teeth move as quickly as possible. Plus, the technology allows us to show a patient what their teeth will look like after Invisalign, giving them something to look forward to while providing tremendous motivation to keep their treatment on track. We can perform a smile simulation so you are able to see in real time what your dramatic smile transformation will look like.
Understanding the Cost of Invisalign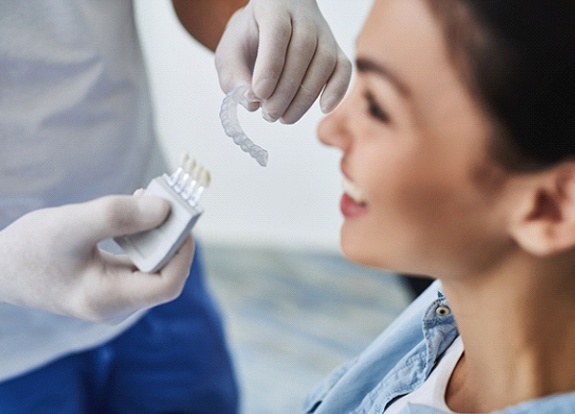 Are you tired of hiding your crooked teeth every time you speak or laugh? If so, you may be more ready than ever to start your Invisalign journey. However, before committing to anything, you're probably wondering how much your treatment plan will cost. Well, the answer truly varies from patient to patient depending on many factors. At your consultation with Dr. Desai, our team will be more than happy to provide you with an accurate cost estimate and explain your financing options. To learn more, continue reading or make an appointment today!
What Factors Affect the Cost of Invisalign?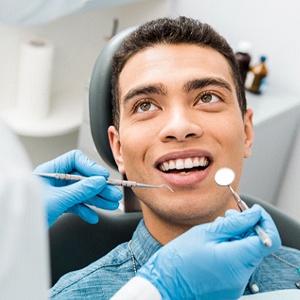 Various factors influence the cost of Invisalign in Grand Prairie, including:
The length of treatment. Depending on the severity and type of your dental misalignment, you may need more aligners than average which means a longer treatment time and higher cost.
Whether you're straightening one arch or both. Naturally, straightening both the upper and lower teeth will cost more than straightening just one or the other.
Your compliance with treatment. Keep track of your aligners! Losing one means you'd have to pay for a replacement.
Whether you require additional accessories. Some patients might need extra accessories like small elastics for successful treatment.
Invisalign vs. Smile Direct Club™: Which Costs More?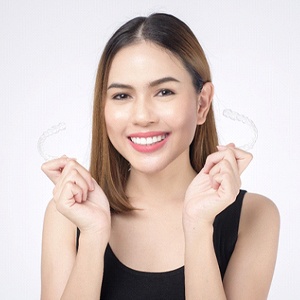 Do-it-yourself clear aligner treatments like SmileDirectClub™ have become increasingly popular in recent years. They usually cost around $2,000, while Invisalign in Grand Prairies may cost anywhere between $3,000 and $8,000. Although the lower price point of DIY treatment is certainly attractive, it's important to keep in mind that you get what you pay for.
SmileDirectClub™ is a do-it-yourself clear aligner kit that comes with little to no supervision from a dental professional. Many things can go wrong throughout the process, leading to issues that will need to be corrected by a professional and cost you thousands of dollars. In fact, some people claim this option has made their misalignment worse!
On the other hand, you can enjoy personalized support and guidance from our team during your Invisalign treatment plan. We'll be there every step of the way to monitor your progress and ensure you're on track. Even though Invisalign isn't as affordable as SmileDirectClub™, the cost is worth having a smoother and more successful treatment overall. Not only will you have the trusted oversight of Dr. Desai, but you'll have professionally made and highly accurate impressions. Quality should always be of utmost importance, regardless of cost.
Does Dental Insurance Cover Invisalign?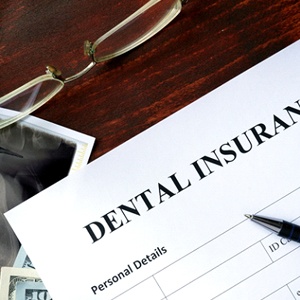 Although some dental insurance policies offer coverage for orthodontic treatment, Invisalign is usually left out in those plans. Since that's not always the case, it's best to check with your dental insurance company to understand what's covered. At your initial visit, our team will gladly explain your coverage and how you can use it to your greatest advantage.
Options for Making Invisalign Affordable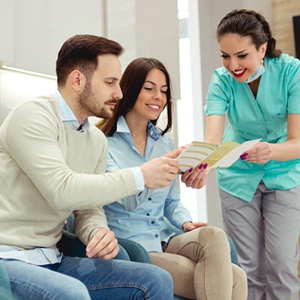 At Care 32 Dental of Grand Prairie, we currently offer a special where you can get a custom-designed Invisalign treatment for as low as $209 a month pending credit approval. If you start treatment the same day as your consultation, we'll even take $500 off the overall price! Additionally, we offer the following financing options to help make your dental bills easier to manage:
In-House Discount Plan – For one low price, this plan covers preventive services for the entire year and gives you access to reduced fees on a list of other services.
CareCredit Financing – This option will break up the total cost of your treatment into smaller, budget-friendly monthly installments. Since there are many plans to choose from, you're guaranteed to find one that's perfect for your budget!
If you want to learn more about the cost of Invisalign in Grand Prairie, contact us today to schedule a consultation. We'll explain your financing options and find a way to fit your treatment plan into your budget.
Invisalign FAQs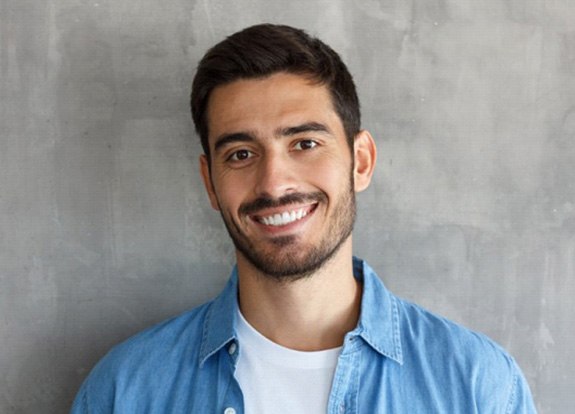 Everyone wants a beautiful smile, but sometimes, our teeth end up more crooked than we would like. Rather than awkward metal braces, Invisalign in Grand Prairie allows you to straighten your smile in a much more comfortable and discreet manner. If you still have questions about what life with Invisalign will be like, we encourage you to contact us and schedule an appointment. In the meantime, we encourage you to read through this list of the most frequently asked questions we get regarding Invisalign.
How Often Do I Have to Wear Invisalign Aligners?
For your treatment to finish on schedule, you should plan on wearing your aligners for at least 20 to 22 hours a day. Essentially, you should only take them out for eating or cleaning your teeth. You may also remove them for special events, like a job interview, provided you place them right back in afterward.
Although 22 hours a day may seem like a lot, it is necessary. It takes time for the aligners to exert pressure on your teeth and shift them into their ideal positions. Going several hours per day without wearing the aligners will cause your teeth to move more slowly, extending your treatment time.
Does It Hurt to Wear Invisalign Aligners?
While Invisalign does place gentle pressure on your teeth, most patients do not feel it. However, you may experience some soreness when you first begin treatment, or when you switch to a new set of aligners in the series. This discomfort should fade within a few days and should never result in outright pain. Over-the-counter pain relievers like acetaminophen can help until then.
How Long Does Invisalign Treatment Take?
Because every Invisalign treatment is customized to meet each patient's unique needs, the only way to find out how long it will take to straighten your smile is to schedule an initial consultation with us. At this visit, we can evaluate the severity of your orthodontic issues and estimate a treatment timeline. On average, most patients finish Invisalign between eight and fourteen months, which is significantly shorter than metal braces.
Are the Results of Invisalign Permanent?
As with any orthodontic treatment, you will need to wear a retainer for a certain amount of time after you're finished with Invisalign. Your retainer will most likely be another set of clear trays, so there won't be a huge adjustment. Depending on the specifics of your case, you'll probably have to wear your retainer 22/7 for a few days or weeks, but after that, we may tell you that you only have to wear it to bed.
What Happens After Invisalign?
After you've completed wearing your final set of clear aligners, you'll go visit your dentist to confirm that you've achieved your desired results. They'll look over your smile to see that your teeth have straightened into their ideal positions before discussing how you'll need to maintain your newly aligned pearly whites.
This typically involves wearing a retainer that is very similar to your regular aligners, or they can be wired ones, but they'll only be designed to hold your teeth in place. These will be essential for preserving your results, as your teeth might want to revert to their original places and angles. First, you'll need to wear them 22/7 like normal Invisalign trays. Over time, you'll gradually just need to wear them overnight. By doing so, you can expect to enjoy permanently straightened teeth for the rest of your life!
What If My Invisalign Broke?
While Invisalign aligners are durable, they can still become damaged or break. If you notice a hairline crack, you may be able to continue using it. Of course, you'll need to be extra careful when handling them by using even pressure when putting them back on and limiting any bending of the tray. Do NOT try repairing your aligners on your own, as products like superglue are hazardous and toxic to humans.
Whether the damage is minor or severe, notify your dentist so they can instruct you on what to do next while they work on providing you with new trays. Reduce your risk of damaging your aligners by taking them out before every meal or drink (other than pure water) and placing them in a protective case. Also, place a towel on the sink or floor when cleaning them to break their fall if you accidentally drop them.
Can You Eat with Invisalign?
You should never eat anything with your Invisalign trays on. Since they're removable, it's best to remove them before eating or drinking anything other than non-flavored water. Chewing on anything or eating while they're in can easily cause them to get cracked, stained, or damaged. Remember to take them out and clean them thoroughly before wearing them again. Once they're off and in a safe place, you can feel free to enjoy most of your favorite meals!
Can Invisalign Fix an Overbite?
Some overbite is common, but some people may have serious jaw misalignment that can cause front teeth to drastically overlap their bottom arch. This can create various complications with both your bite and smile. If you have a mild or moderate overbite, or another mild-moderate alignment problem, then you might be able to undergo Invisalign treatment to fix it. However, if the overbite is too severe, then clear aligners may not be able to resolve the issue on their own. Your dentist might suggest undergoing traditional braces or another orthodontic process to fix your bite. Of course, make sure to consult your dentist or orthodontist so that you can know for certain if Invisalign is a viable option or not.