Invisalign - Grand Prairie, TX
Straighter Teeth
the Easy Way
Modern dental technology is amazing, and nothing illustrates this better than Invisalign. Now, instead of having to get noticeable metal braces to straighten your teeth, you can instead opt for a discreet and comfortable treatment that has already helped millions of people around the world. At Care 32 Dental of Grand Prairie, we combine Invisalign with our 3D iTero scanner to make the process as efficient and comfortable as possible. To schedule a consultation and start on your road to a renewed smile, contact us today to learn more about Invisalign in Grand Prairie, TX.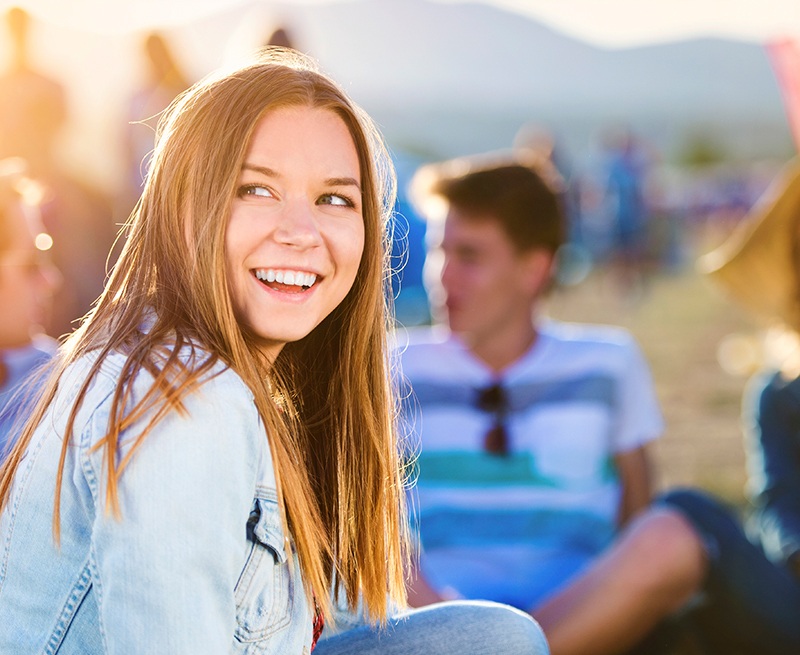 Why Choose Care 32 Dental of Grand Prairiel for Invisalign?
Fully Customized Treatments
for Each Patient
Putty-Free
Digital Impressions
Preview Your Results Using
Our 3D iTero Scanner
How Invisalign Works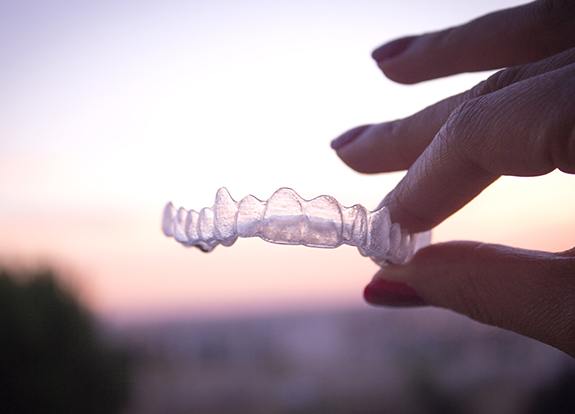 Invisalign actually has a lot in common with regular braces, in that it involves applying a very small amount of force to shift the teeth into their new positions. Instead of using brackets and wires to do this, however, Invisalign instead relies on a series of clear plastic aligner trays. Each one is uniquely shaped to bring a patient a step closer to their final result. And, unlike braces, a patient can take off their trays whenever they like, allowing them to eat and brush their teeth like normal throughout treatment.
Invisalign & Invisalign TEEN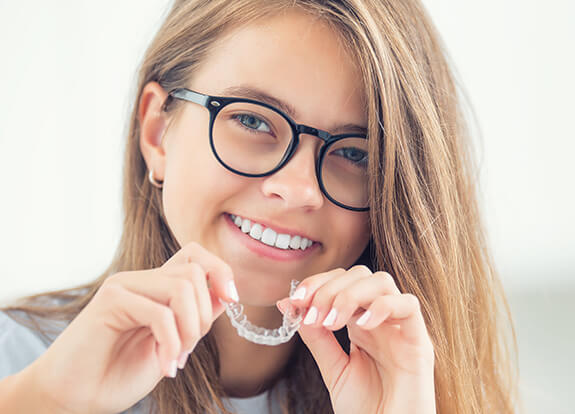 Care 32 Dental of Grand Prairie can use Invisalign to not just help adults, but teens as well! It's perfect for anyone who wants to improve their appearance while keeping their normal look day to day, whether they are in the boardroom or the classroom. Regular Invisalign can straighten the teeth at any age, and with Invisalign TEEN, small indicator dots on each aligner help children and parents easily keep the treatment on track, and it also comes with a set of FREE replacement aligners.
Invisalign & Teeth Grinding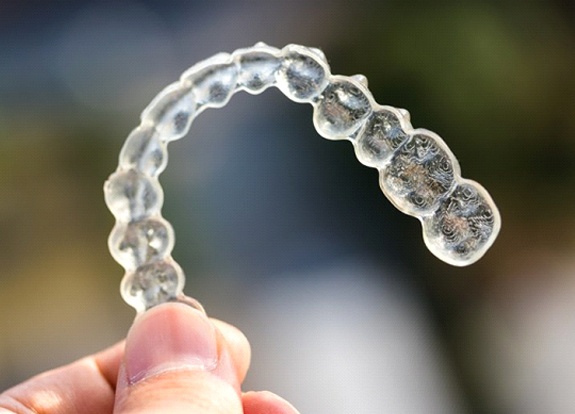 Invisalign can help you achieve a beautiful smile, but more importantly, it aims to give you a healthy, pain-free grin. Correcting crooked, overcrowded, or gapped teeth will definitely give your appearance a boost, but it will also help your jaws fit together properly. In turn, this can protect your jaw joint, prevent issues like TMJ disorder, and even potentially treat teeth grinding. Can Invisalign really help you stop grinding your teeth? Read on as we go over everything you need to know.
Signs That You Grind Your Teeth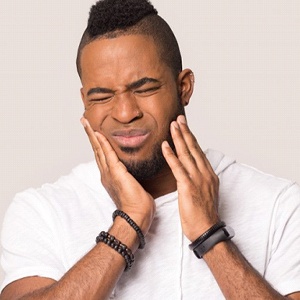 You may grind your teeth without realizing it. Many people grind their teeth in their sleep, which can make it a difficult problem to identify on your own. However, the warning signs of teeth grinding are not so easy to miss! You may grind your teeth or clench your jaw at night if you suffer from:
Morning headaches or jaw soreness
Tooth sensitivity or tooth pain
Chipped, cracked, or flattened teeth
Receding gums or teeth that look longer
Damage on the inside of your cheek from chewing
While it may be difficult for you to tell if you grind your teeth in your sleep, an experienced dentist like Dr. Desai will be able to tell right away with a quick examination. If you suspect you grind your teeth, don't hesitate to contact us today!
Why Teeth Grinding Is a Problem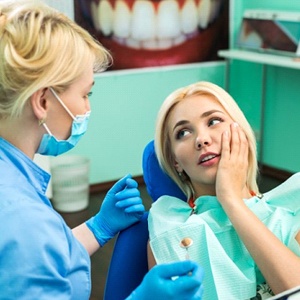 Grinding your teeth in your sleep is a condition known as bruxism. Sometimes, it can occur temporarily or sporadically because of stress. Other times, it may be a chronic issue due to a problem with your temporomandibular joint or jaw misalignment. Treating bruxism early is the best way to address and reverse the symptoms we mentioned above. Additionally, taking steps to stop teeth grinding can help prevent serious problems in the future, such as cracked teeth or dental infections. In extreme cases, you may develop a condition known as TMJ disorder, which can interfere with your daily life and require treatment via surgery.
How Invisalign Fixes Teeth Grinding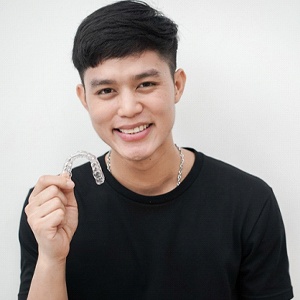 So how can you treat bruxism while getting a straighter smile? Invisalign can help by:
Protecting teeth from grinding: Like a nightguard, Invisalign clear aligners can act as a protective barrier between your teeth to prevent damage from grinding.
Reprograming jaw muscles: Your jaw muscles will need to adjust to the presence of Invisalign aligners, which will essentially retrain them to not clench or grind.
Fixing bite issues permanently: Invisalign has the potential to permanently correct misaligned jaws and bite issues that could be the root source of your bruxism.
Can Invisalign Help You Stop Grinding Your Teeth?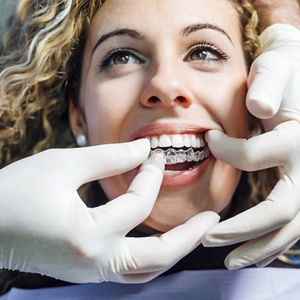 Invisalign isn't the ideal treatment option for everyone who grinds their teeth. For some people, wearing aligners makes them want to clench their teeth more often. In other cases, the bruxism may be too strong and damage the aligners. The best thing to do is to come see us here at Care 32 Dental for an evaluation. Invisalign is just one way to address bruxism, and a custom-made nightguard may be a more effective choice for you. Dr. Desai will help you determine the best way to treat your teeth grinding and achieve the happy, healthy, and pain-free smile you deserve!
3D iTero Scan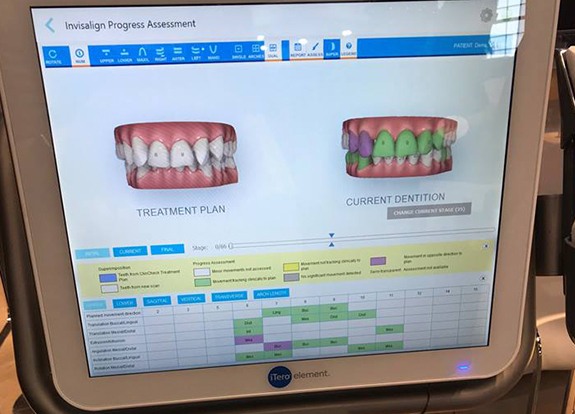 Each Invisalign treatment we provide is 100% custom-made for each patient, and it's designed using our 3D iTero scanner. It allows us to take an extremely accurate digital impression of the mouth without relying on goopy and odd-tasting dental putty. With this model, we can map out someone's treatment plan with extreme precision so the teeth move as quickly as possible. Plus, the technology allows us to show a patient what their teeth will look like after Invisalign, giving them something to look forward to while providing tremendous motivation to keep their treatment on track. We can perform a smile simulation so you are able to see in real time what your dramatic smile transformation will look like.
Invisalign FAQs
Everyone wants a beautiful smile, but sometimes, our teeth end up more crooked than we would like. Rather than awkward metal braces, Invisalign in Grand Prairie allows you to straighten your smile in a much more comfortable and discreet manner. If you still have questions about what life with Invisalign will be like, we encourage you to contact us and schedule an appointment. In the meantime, we encourage you to read through this list of the most frequently asked questions we get regarding Invisalign.
How Often Do I Have to Wear Invisalign Aligners?
In order for your treatment to finish on schedule, you should plan on wearing your aligners for at least 20 to 22 hours a day. Essentially, you should only take them out for eating or cleaning your teeth. You may also remove them for special events, like a job interview, provided you place them right back in afterward.
Although 22 hours a day may seem like a lot, it is necessary. It takes time for the aligners to exert pressure on your teeth and shift them into their ideal positions. Going several hours per day without wearing the aligners will cause your teeth to move more slowly, extending your treatment time.
Does It Hurt to Wear Invisalign Aligners?
While Invisalign does place a gentle pressure on your teeth, most patients do not feel it. However, you may experience some soreness when you first begin treatment, or when you switch to a new set of aligners in the series. This discomfort should fade within a few days and should never result in outright pain. Over-the-counter pain relievers like acetaminophen can help until then.
How Long Does Invisalign Treatment Take?
Because every Invisalign treatment is customized to meet each patient's unique needs, the only way to find out how long it will take to straighten your smile is to schedule an initial consultation with us. At this visit, we can evaluate the severity of your orthodontic issues and estimate a treatment timeline. On average, most patients finish Invisalign between eight and fourteen months, which is significantly shorter than metal braces.
Are the Results of Invisalign Permanent?
As with any orthodontic treatment, you will need to wear a retainer for a certain amount of time after you're finished with Invisalign. Your retainer will most likely be another set of clear trays, so there won't be a huge adjustment. Depending on the specifics of your case, you'll probably have to wear your retainer 22/7 for a few days or weeks, but after that, we may tell you that you only have to wear it to bed.