Dentures – Grand Prairie, TX
Quickly Regain a Complete, Confident Smile
Teeth may be relatively small, but they play a big role in your quality of life! Tooth loss can make it more difficult to eat comfortably, speak clearly, and feel good about your appearance. Thankfully, at Care 32 Dental of Grand Prairie, we can help you quickly regain a complete, confident smile with custom-made dentures in Grand Prairie. These classic restorations are made with high-quality materials and state-of-the-art technology, making them more comfortable, beautiful, and functional than ever before! Read on to learn more about dentures and give us a call when you're ready to schedule your consultation.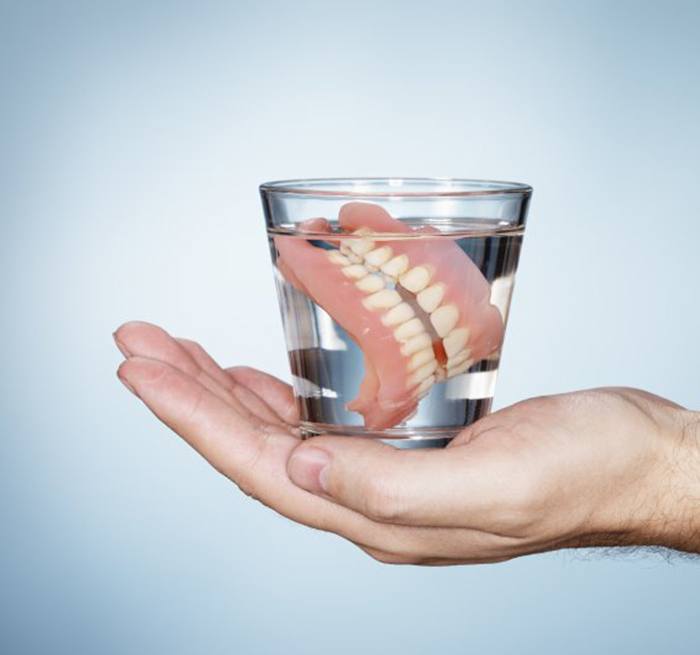 Why Choose Care 32 Dental of Grand Prairie For Dentures?
State-of-the-Art Equipment for Beautiful, Long-Lasting Results
Evening and Weekend Hours Available for Your Convenience
Flexible Payment Options to Make Treatment Affordable
Types of Dentures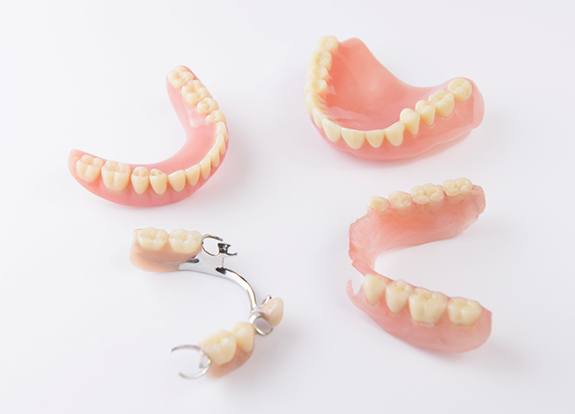 Dentures are a great choice for patients suffering from moderate to severe tooth loss. Whether you're missing multiple pearly whites or an entire arch, a custom-made denture can help. Each one is crafted from reliable, natural-looking materials like dental porcelain and gum-colored acrylic to ensure your smile looks good as new! There are several types of dentures to choose from, including:
Partial Dentures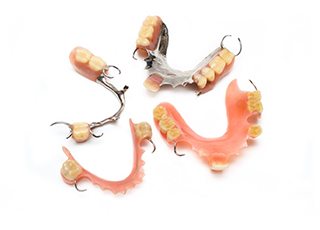 Sometimes called partials, partial dentures are designed to replace multiple missing teeth like a puzzle piece. Custom-made replacement teeth are held precisely and seamlessly between your remaining healthy teeth with the help of small, unnoticeable metal wires and clasps that wrap around your natural dental structures.
Full Dentures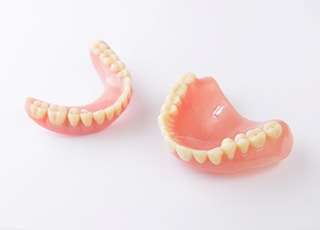 If you're missing your entire top arch of teeth, bottom arch of teeth, or both, a full denture can help you enjoy a complete set of pearly whites once again! These replacement teeth are set into a gum-colored base that fits snugly on top of your gums. This close, precise fit creates a strong suction that holds your denture in place as you talk, eat and laugh.
Implant Dentures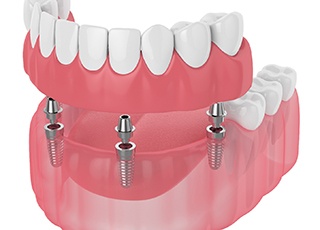 Alternatively, you can anchor your full or partial denture in place with dental implants. Instead of relying on your remaining teeth or gums for support, this type of denture is supported by small titanium implant posts that are inserted directly into the jawbone. Not only does this ensure your new smile doesn't slip out of place, but it will prevent jawbone deterioration and has the potential to last a lifetime.
Who Is a Good Candidate for Dentures?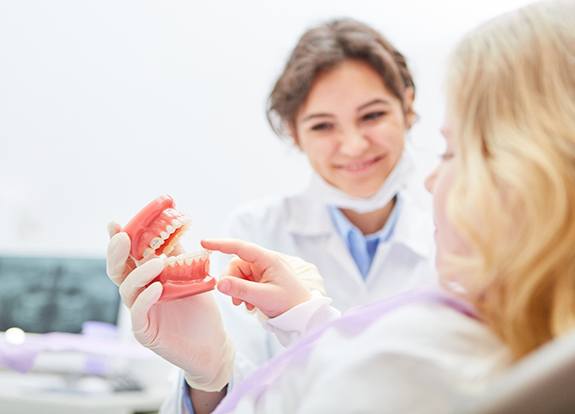 Practically anyone missing most or all their teeth is a good candidate for dentures! However, you'll need to have a healthy mouth before we can start replacing your teeth. Once you've completed any necessary treatments like tooth extractions or gum disease therapy, we can move on to fitting you with dentures. If you're interested in implant dentures, you'll also need to be in good health and have adequate jawbone density. During your consultation, we'll help you decide which type of denture is right for you.
Benefits of Dentures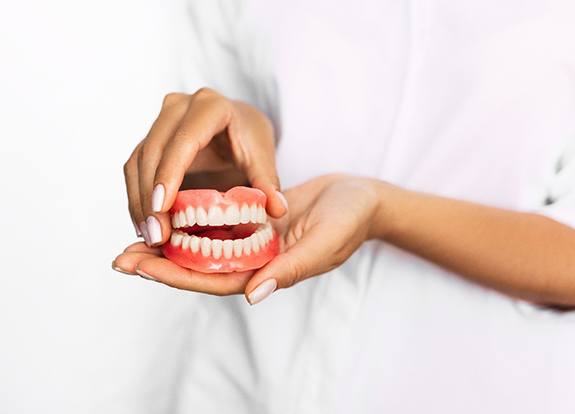 Dentures have been a popular way to replace missing teeth for a long time, and it's easy to see why! Dentures offer:
A fast, non-invasive way to replace missing teeth
Beautiful, high-quality, and natural-looking results
Restored ability to eat a full, nutritious diet
Filled-out facial appearance that makes you look younger
A cost-effective tooth loss solution
Dentures FAQs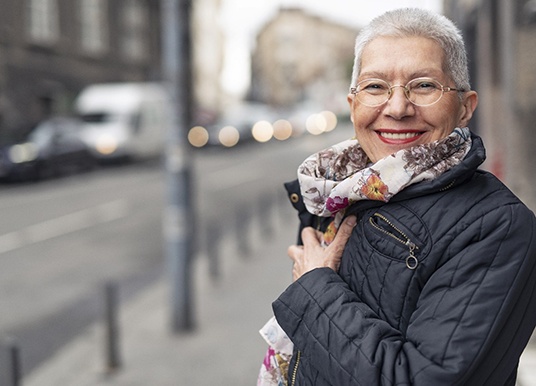 If you're missing several, most of, or all of your teeth, dentures could be the solution that you're looking for. However, replacing your missing teeth is a huge decision, so it pays to be well-informed. We're here to help! Here are the answers to some of the most common questions we are asked about dentures in Grand Prairie. If you don't see the information that you're looking for below, just give us a call. We'd be happy to explain more about the restoration and get you started with an initial consultation.
Should I Have All My Teeth Pulled to Get Dentures?
Repairing a damaged tooth whenever possible is always preferable to replacing it. Tooth extractions of any kind will only ever be recommended if deemed absolutely necessary, like when the tooth is too damaged to save thanks to extensive decay, severe infection, or trauma that's broken away most of the enamel. If all of the teeth in an arch are decayed or infected with gum disease, replacing them with dentures may be a viable option, but we will always explore all other possibilities before recommending extractions for dentures.
Can I Sleep with My Dentures?
Dentists generally recommend that you take your dentures out at night when you go to bed. When you first get your dentures, you'll typically be told to keep them in your mouth for 24 hours, including when you sleep. After this, you should be taking it out every evening. This is because wearing dentures restricts the circulation in your gums, leading to soft-tissue irritation and potentially speeding up ridge resorption. Taking out your dentures gives your gums a chance to recover and get the nutrients they need while you catch some Z's.
Will It Hurt to Get Dentures?
If you need to have teeth extracted before you get dentures, you are likely to experience some discomfort after oral surgery. Take your prescribed pain relievers as directed. The discomfort should improve after 3 to 5 days. When you first get new dentures, some minor irritation may occur as your mouth adjusts. The amount of time that this process takes will vary from person to person. If pain persists, give us a call!
Can You Still Eat Steak with Dentures?
Tough meats, like steak, are often difficult to chew with dentures, but it's still possible to do so if you take the right precautions. Pick out tenderloins and other beef cuts that don't contain as many connective tissues or muscle fibers. Make sure that the meat is thoroughly tenderized beforehand. Cut the steak into very small, manageable pieces.