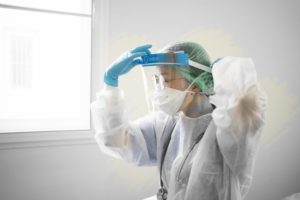 From picking up essentials at the grocery store, to connecting with loved ones, to earning your living, Covid-19 has changed virtually everything about our lives. This even includes visiting your dentist. In order to keep you healthy and minimize the transmission of germs in their office, your dentist has implemented many new safety protocols as a result of the pandemic. Keep reading below to get an idea of what you can expect in terms of dentistry during Covid-19.
Before Your Appointment
To prepare your visit, your dentist and their team are taking the following steps before your appointment even begins:
Daily Team Health Checks
Every day, when the members of your dental team arrive at the office, they are asked a series of questions regarding the current status of their health. Their temperatures are taken with a no-contact thermometer. This precaution ensures they are able to provide safe dental care.
Pre-Screening of Every Patient
A similar process occurs every time a patient comes in for their appointment. You'll be asked to fill out a health questionnaire as well as a consent form. Your temperature will also be taken via a no-touch thermometer.
Sequenced Patient Scheduling
These days, appointments are spaced out further than they used to be. This eliminates unnecessary contact between patients. Generally, the fewer people in the office at one time, the better. Plus, the extra time gives the team members more time for cleaning between patients.
During Your Appointment
You may notice some of these changes during your next appointment:
Anti-Microbial Rinse
At the beginning of every appointment, patients will be provided with an Oracare solution and asked to rinse their mouth out with it. This should reduce the number of bacteria in your mouth, lessening the risk of spreading germs to others.
Social Distancing
The practice is adhering to social distancing guidelines by removing some chairs from the reception area, placing helpful signs, and enforcing one-way traffic in the treatment area.
Increased PPE
Your dentist and their team members have always worn personal protective equipment (PPE) when caring for your smile, but you can now expect to see even more. The front desk staff will now be wearing masks and the clinical team is wearing additional PPE like face shields, shoe coverings, and disposable protective coats.
After Your Appointment
All equipment, instruments, and surfaces are thoroughly disinfected after each appointment. Along with sanitizing throughout the day, the entire office is cleaned top to bottom in the evenings.
Just because we're in the midst of a pandemic doesn't mean you should let your oral health fall by the wayside. With all of the new safety protocols in place, you can rest easy knowing that dentistry during Covid-19 is safer than ever.
About the Author
Since earning her Doctor of Dental Surgery at the Rutgers School of Dental Medicine, Dr. Heliben Desai has spent the last 10+ helping patients in Grand Prairie, TX have the world-class dental experience they deserve. Today, her team at Care 32 Dental has implanted 24 additional safety precautions to guarantee your peace of mind during your appointment. To learn more about dentistry during Covid-19, don't hesitate to visit her website or call her at 469-346-8828.