FORMERLY MARVEL DENTAL
We are Now Care 32 Dental!
Our Dental Patients Love Us
130+ 5-Star Reviews on Google & Counting.

Paloma C., Grand Prairie, TX
"Staff was very friendly and I loved the fact that even though it was a holiday and that I was the last patient: the Dr and her staff did not make me feel in a rush. They were professional, sweet, and kind enough to take their time to make sure I was comfortable and satisfied. They definitely deserve more than 5 stars."

Lex N., Grand Prairie, TX
"Received a root canal here and the doctor & staff was amazing! They took great care of my needs and made sure I was as comfortable as possible during the whole procedure. Will definitely be going back for any future work needed!"
Hunter S., Arlington, TX
"I had not been to the dentist in YEARS and was pretty nervous when I was getting ready to have my operation done. However, they made sure I wouldn't feel any pain at all and welcomed me in, made me feel comfortable, and assured I was in good care. Overall I was/am very pleased with my experience here and do recommend them 100%."

Brittney M., Cedar Hill, TX
"My experience was amazing. The staff are professional, warm and friendly. Every time l visit this clinic, they always made me feel at home. They did a great job on my teeth and made sure that everything was okay with sincerity. I really appreciate them."

Neha S., Grand Prairie, TX
"Very professional and friendly staff. They got me in and out in a timely fashion. We'll definitely be back for all dental work. Professional and pleasant staff, and the dentist is exceptional and awesome person. I will recommend family and friends!!"

Hiren J, Dallas, TX
"Place to get all kind of dental treatment. Highly technical and experienced doctors. Very friendly, honest and confident in their work. One can rely on their advice and procedure at topmost level."

Krupah S., Arlington, TX
"Had an absolutely fantastic experience with Dr. Desai. She is an excellent and super friendly dentist. Strongly recommended!!"
Read More Reviews
Meet Grand Prairie's Dentist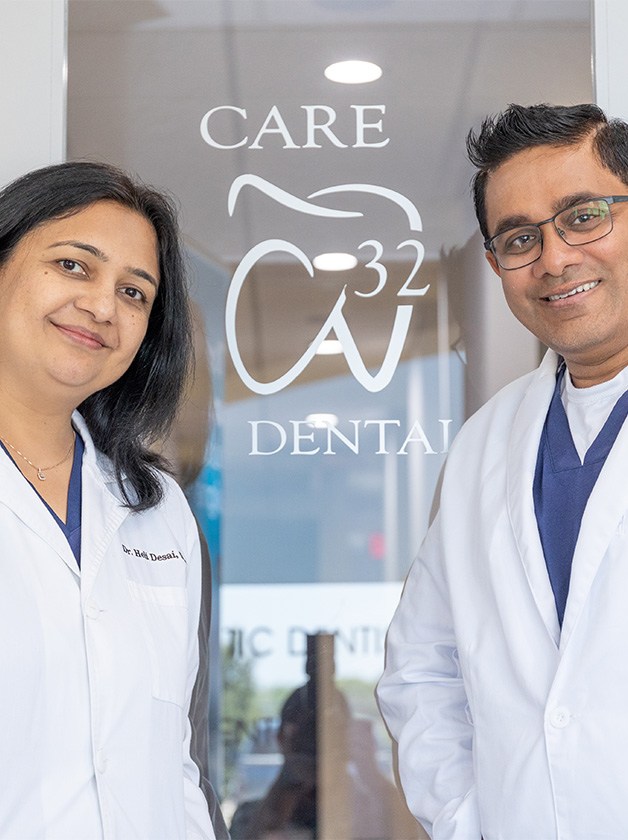 Heliben Desai, DMD
For Dr. Desai, trust is a crucial part of quality dental care, and she always takes the time to truly earn it from her patients through personalized attention, unrushed appointments, and genuine compassion. She loves caring for people in need from all over the greater DFW area!

Multi-Specialty Training & Experience
Dentistry is constantly evolving for the better – and so is Dr. Desai. Her extensive clinical education and commitment to lifelong learning allows her to offer a wide variety of specialty services in-office, including extractions, root canal therapy, Invisalign, and more.

Your Missing Teeth Expert
Rebuilding your smile can feel like a difficult journey at first, but Dr. Desai is more than capable of guiding you every step of the way. She offers every stage of transformative treatments like dental implants right here in-office, combining convenience with reliable quality.

All Ages & Stages Welcome
From young children to grandparents (and everyone in-between), Dr. Desai understands the unique needs and challenges of smiles at every stage of life. She enjoys creating a family-friendly atmosphere at Care 32 Dental where you and your loved ones can always feel at ease!
More About Dr. Desai