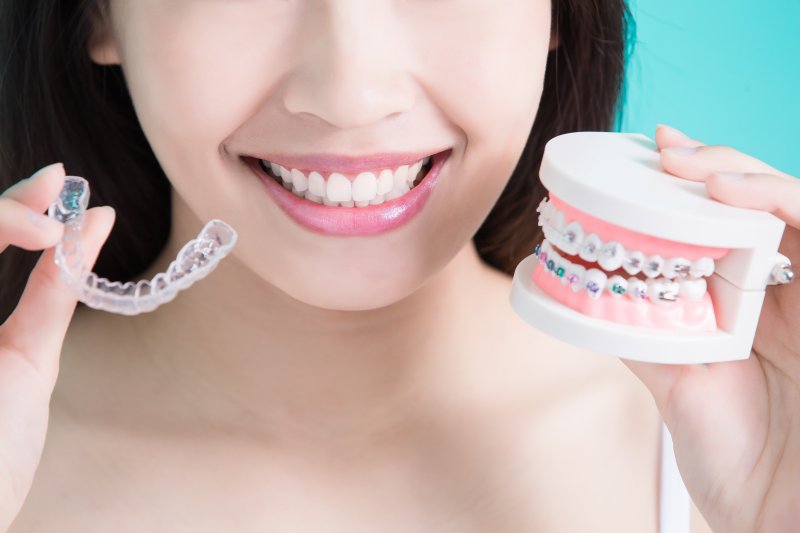 If overlapped, spaced-out, or otherwise misaligned teeth are taking a toll on the look and function of your smile, then it's time to schedule a consultation with your dentist. Naturally, one of your first questions may be, "What's the difference between Invisalign and braces?" After all, while they're both teeth-straightening solutions, their approach is quite different. With this in mind, keep reading for a few things to consider when determining which one is right for you.
#1. Severity of Misalignment
From minor crowding to more moderate gaps, Invisalign can address a number of orthodontic issues. However, more complex concerns, like severely rotated teeth, require traditional metal braces. As a result, the decision of which treatment is right for you may be automatically determined based on your unique dental needs.
#2. Hygiene
While the metal brackets and wires associated with traditional braces are extremely effective, they can make your oral hygiene routine a bit of a nuisance. On the other hand, Invisalign uses completely removable clear aligners, which allow you to brush and floss hassle-free. So, if you are prone to dental problems, like cavities, it may be beneficial to opt for Invisalign.
#3. Esthetics
When it comes to esthetics, it's no secret that Invisalign takes the lead. Not only are the clear aligners virtually undetectable, but they are entirely removable, allowing you to pop them out quickly for an important photo or quick meeting. As for braces, you can make them more discreet by opting for clear elastics, but the metal brackets and wires are still noticeable.
#4. Treatment Length
Whether you choose Invisalign or metal braces, the treatment length will vary depending on your unique dental needs and smile goals. With that being said, Invisalign delivers results in an average of 12 months while traditional alternatives can take 18+ months to complete. So, if you are straightening your teeth for an event, like your wedding, then you may want to opt for Invisalign.
Orthodontic treatment of any kind is an investment, which is why you want to pick a teeth-straightening treatment that will address your unique dental needs and smile goals effectively. Although the decision will ultimately be up to you and your dentist, the above points are a great place to start when determining whether Invisalign or traditional braces is the right option for you!
About the Author
It was watching her mother get the pain-relieving dental care she needed that sparked Dr. Heliben Desai's passion for dentistry. She completed her dental doctorate at the Rutgers School of Dental Medicine in 2014 and has since spent her days helping patients get the healthy, happy, beautiful smiles they deserve. To continue to provide the best care and service, she maintains an active membership with the American Dental Association and the Texas Dental Association. If you are interested in learning more about Invisalign and traditional braces, don't hesitate to visit her website or give her a call at 469-346-8828.