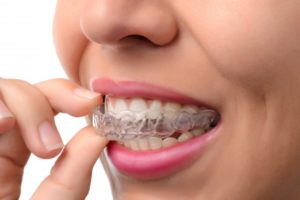 One of the first questions most people have when it comes to the Invisalign timeline is, "how long will it take?" If you want straighter teeth, you likely want to see results as soon as possible. If you've never had it before, you probably would like to know a bit more about what to expect from the process. Keep reading to learn about all of the details you can be aware of going in, thanks to your Grand Prairie experts.
The Most Common Invisalign Questions and What to Expect from the Process
Investing in Invisalign treatment is a big decision, so it's important for you as a patient to know exactly what to expect before you commit. Here are some of the most common questions asked along with information that can help you prepare for your consultation with your dentist:
How Long Does Invisalign Treatment Take?
If your dentist had the capability to snap their fingers and magically straighten your teeth in an instant, I assure you they would! More realistically, there is no cut and dry answer to this question. Every patient has different cosmetic needs when it comes to teeth-straightening, so the timeline will vary from person to person. However, on average, it takes approximately a year. Before you write that down, make sure to have a discussion with your dentist and let them assess your teeth.
Does Dental Insurance Cover Invisalign Treatment?
This is probably the second question that pops into your mind when considering Invisalign as an option. After all, it's no secret that it's not cheap. However, straighter teeth have been proven to enhance overall oral health and prevent future issues, which means that there is a good chance your insurance company will provide some coverage. Before assuming the worst, do some research, and even talk to your dentist about any payment options their practice might offer. Plus, your insurance probably involves a Healthcare Savings or Flexible Spending Account that you're already investing in each month, and these are great ways to help pay for treatment.
Will My Trays Turn Yellow?
The answer to this question lies in your own hands. As long as you take good care of your trays and wash them/clean them as instructed, you won't have to worry about yellowing. Your trays will remain as clear as they were on the first day you received them! Another important thing to consider is the use of tobacco products. These have been known to cause yellowing to both natural teeth and clear aligners. If you smoke, this is something to consider.
Do I Have to Wear My Aligners All Day Every Day?
If Invisalign Treatment time is extended, it is most often due to improper wear. In order for your improvement to stay on track, you will need to wear the aligners for a minimum of 22 hours per day. While it might feel excessive at first, it will be worth it in the end when you don't have to spend more time and money on treatment.
The benefits of Invisalign are boundless because you can't put a price on the confidence and enhanced quality of life that come with straighter teeth. As long as you follow instructions and take good care of your aligners, you'll find that time will fly, and you'll have the smile of your dreams before you know it!
About the Author
Dr. Heliben Desai leads the team of experts at Care 32 Dental. For over a decade now, she has been providing the highest quality of care to everyone who enters her office. Nothing makes her happier than to be able to give her patients the smiles of their dreams through Invisalign Treatment. She regularly pursues continuing education so that she can grow in her knowledge and skills. Are you ready to have the smile you've always wanted? Schedule a consultation online to talk with us about Invisalign or call (469) 346-8828.