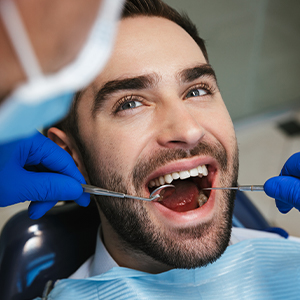 With the end of the year comes the holiday season! It's an exciting time of parties, gifts, and family get togethers, and the last thing that is probably on your mind is your dentist. However, this is actually the best time of year to contact your dentist and schedule any treatment or checkups you needs so you can make the most of your dental insurance benefits. Not sure what we're talking about? Your dentist in Grand Prairie has the answer.
The Ins and Outs of Dental Insurance
The first thing to understand about dental benefits is that most plans run on a calendar year system. This means that your benefits begin in January and end in December. Your plan also typically has a yearly maximum ranging from 1000 to 2000 dollars. This is the highest dollar amount your insurance plan will pay for your treatment each year. These dollars don't roll over into next year's benefits, so unfortunately, if you don't use them by the end of December, you will lose them.
What does this mean? That right now is the best time to determine if you have had two cleanings and checkups and completed any treatment that was recommended this year before your benefits run out and you lose your dollars.
The Importance of Preventive Care
Dentistry is focused on prevention, which is why most typical dental plans will cover your six-month cleaning and checkup appointments at 100%. Because there is little to no out-of-pocket cost for you, it is important to take advantage of this benefit and visit your dentist twice each year. Preventive care helps you avoid more significant problems such as tooth decay and cavities because your dentist can detect them early on.
For example, if your dentist detects tooth decay, and you are proactive about treating it right away it can typically be treated with a simple dental filling. A filling is a less complicated procedure and won't require recovery time or missed days at work. Ignoring tooth decay could result in the need for a more significant and costly procedure.
Need More Information?
We are happy to answer any questions you have about your dental insurance, what it covers, and what treatment or appointments you should schedule before the end of the year. Give your Grand Prairie dentist a call today for more information.
About Care 32 Dental
Your team at Care 32 Dental strives to provide comfortable dental care combined with a stress-free experience every time you visit. Patients enjoy convenient office hours including morning, evening, and weekend availability; as well as a number of calming amenities such as a beverage bar.
If you would like to contact Care 32 Dental, our team can be reached by calling 469-346-8828 or through our website.